Pastor's 40th Ordination Anniversary Party
YOU'RE INVITED!
We're (Finally) Celebrating
PASTOR KEN FOSSE'S 40TH Ordination Anniversary
Date: Sunday, June 6th
Time: Appetizers 11:30am and Luncheon 12:30pm
Place: Inside and Outside the Parish Hall Building
Please RSVP Number Attending by May 30:
Email: popchurch@optonline.net or Text: 732-406-1531
We are looking forward to having everyone gathering as a Family again.
Tables will be placed at least 6ft apart and masks will be worn when getting food.
Mark your calendars!
Our 4th Annual Car and Truck Show will be held on Saturday June 5, 2021, with a rain date of June 12. Please join us for this fun-filled outdoor event! We will have trophies, raffles, food, and live entertainment from the Black Ties and Nancy Scharff. Please direct all questions to Tommy Campagna at 732-804-3052.
This event is free for spectators!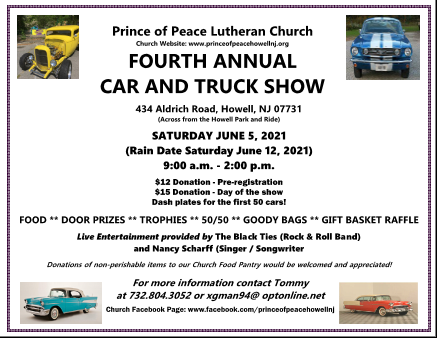 Attic Treasures
The next Attic Treasures Flea Market will be held in the front of the church on Saturday June 5th
(the same day as the Car Show.) This year, the church will NOT have a table - so please do not drop off any items at the church. $25 spaces will be available for rent to anyone that wants to sell their gently used items. Click on the link below to access our registration form.